We customize experiences
that are both intimate and fully-adaptable 
to your desires and requirements, and we take extra care that it all runs 
smoothly. Because we believe that true luxury also lies in serenity and 
peace of mind.

We select all our hotels, providers and guides with the same care a gifted artisan would in choosing their raw materials. Sustainability is also a core value of our company and is a key element in the vacations we design.

We focus on providers that meet the highest standards of safety and service. Accommodation is for the most part in four- and five-star hotels full of real charm, comfort, and character. Luxury is found in details and careful attention and so we make sure that happens, without ever losing sight of the standards any luxury travel company is expecting of us. 

We define high-end travel as unique, exclusive, comfortable and, above all, safe. That is why we only work with providers that meet the highest standards of safety and service.

We work exclusively with four and five-star hotels full of charm, comfort, and character. And, of course, some of the finest gourmet restaurants Spain and France have to offer.
Guides ares essential to us
___
We know they make all the difference when it comes to making the magic happen. The team of amazingly gifted people who lead our tours bring with them the energy and empathy we are looking for. Spontaneous, sensitive, knowledgeable, curious, multilingual,… they're all of this and way more.
___
They're around 24/7 and pop-up when you need them. They'll solve any hassles that might appear, and are ready with the good advice and tips you'll need on the way.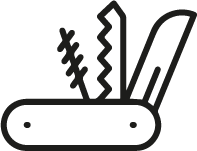 Our services cover everything from the pick-ups to and from the airport, transport, guides, accommodation, restaurants, and all the activities and experiences you might be interested in. We do our best to transcend your stay into a real experience…
___
Our services are reliable and will meet the high-end and luxury standards our clients expect. 
___
Outdoors activities, gastronomy & wine, nature & wellness, culture & heritage and, of course, rich encounters with the locals are the finest ingredients in our recipe for the perfect holiday.

FIT & Escorted coach tours
___
At "Europe Actually," we have been organizing high-end escorted coach tours for more than 15 years now. Small scaled groups with tour leaders explore off the beaten tracks regions and offer the highest services and hotels. We are leaders in the sector and offer France, Spain, and soon Italy and Portugal the same expertise and attention to detail. Come with us to discover the most authentic and sophisticated tours.
___
We specialize in designing FIT tailor-made travels. High-end itineraries blend gourmet experiences with active experiences and meeting the locals' moments. Fully guided or self-driven, our expertise allows us to design the best trips using the best providers and hotels in Spain and France. Come with us and experience what deep travel means.

Focusing on the human side of traveling.
Need to learn more about how we do it ?